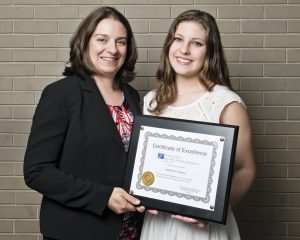 Bernadette Tuthill, an associate with the law firm of Twomey, Latham, Shea, Kelley, Dubin & Quartararo, LLP, was proud to honor Riverhead High School Kathleen Gregory at an awards ceremony on June 1 at Riverhead High School. Kathleen was the recipient of the annual scholarship offered by the firm to a student who has distinguished themself in the areas of community and public service.
Kathleen Gregory has volunteered with Habitat for Humanity, ALS Ride for Life, Feed America, Interact/Rotary, Friends of Karen, Peconic Bay Hospital, and others in her community. She has done all this while also being President of Interact Community Service Club and Student Government as well as being an AP Scholar with Honor, a member of the Foreign Language Honor Society, the National Honor Society and having received awards for Varsity Tennis.
The partners at Twomey, Latham, Shea, Kelley, Dubin & Quartararo, LLP would like to congratulate Kathleen Gregory for her work in the area of community service, and wish her the best of luck in all of her future endeavors.
For the past seventeen years, the partners of Twomey, Latham, Shea, Kelley, Dubin & Quartararo, LLP have presented community service scholarships to seniors at local high schools to recognize the students' contributions to their communities. The firm's attorneys strongly believe in making contributions to their communities for the betterment of the people who live there, and currently serve on the Boards of schools, museums, libraries, civic and environmental organizations, university faculties and regularly perform pro bono work for the indigent.
Photo from left to right: Bernadette Tuthill, Esq. and Kathleen Gregory.