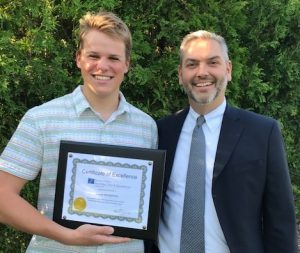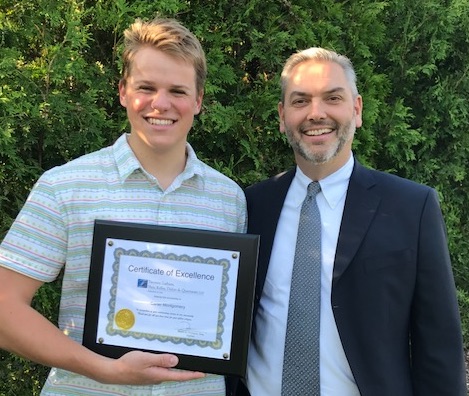 Martin D. Finnegan, partner with the law firm Twomey, Latham, Shea, Kelley, Dubin & Quartararo LLP, was proud to honor Mattituck High School senior, Carter Montgomery, at the June 21 graduation rehearsal ceremony held at the high school. As the recipient of the scholarship, which is offered each year to a student with outstanding credentials in the areas of community and public service, Mr. Montgomery may use the scholarship toward financing his higher education.
Mr. Montgomery has volunteered at Maureen's Haven/John's Place homeless shelter, as a videographer for the East End Disability Associates and as the head altar server at Our Lady of Good Council Church. He has also volunteered with Mattituck High School as a math tutor, as the President of Mattituck's chapter of Best Buddies, and filmed a documentary on the Peconic Bay Estuary's ecosystem and the creatures that inhabit the estuary.
Mr. Montgomery has done all this while also serving as Captain of Mattituck's Varsity Basketball team and Captain of the Varsity Track and Field Team.
The partners at Twomey, Latham, Shea, Kelley, Dubin & Quartararo, LLP would like to congratulate Carter Montgomery for his work in the area of community service, and wish him the best of luck in all of his future endeavors.
For the past seventeen years, the partners of Twomey, Latham, Shea, Kelley, Dubin & Quartararo, LLP have presented community service scholarships to seniors at local high schools to recognize the students' contributions to their communities. The firm's attorneys strongly believe in making contributions to their communities for the betterment of the people who live there, and currently serve on the Boards of schools, museums, libraries, civic and environmental organizations, university faculties and regularly perform pro bono work for the indigent.
Photo from left to right: Carter Montgomery receives Community Service Award and Scholarship from Martin D. Finnegan, Esq.