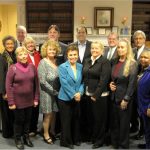 At a luncheon held January 14, 2014, the law firm of Twomey, Latham, Shea Kelley, Dubin & Quartararo and Suffolk County National Bank awarded $2,000 each to five Eastern Long Island Food Pantries.
The grants to the following five food pantries: Long Island Council of Churches Food Pantry in Riverhead, Open Arms Care Center Food Pantry in Riverhead, Community Action Southold Town (CAST) Food Pantry in Greenport, Human Resources of the Hamptons Food Pantry in Southampton and Springs Food Pantry in East Hampton represent an ongoing effort, started by the firm and the bank last year.
This year's grants were particularly important given the surge in families on the East End and throughout Long Island in need of food, which was chronicled recently in a January 6 Newsday cover story. Increased families needing food followed the nationwide lowering of food stamp benefits in the fall which has hit seniors and those on fixed incomes the hardest.
The law firm of Twomey, Latham, Shea, Kelley, Dubin & Quartararo, together with Suffolk County National Bank, conducted a joint Holiday Charitable Giving Campaign in November and December incorporating several events attended by members of the law firm, bank staff and the public. Supported by donations and contributions of numerous east end businesses, the net amount raised was $10,000.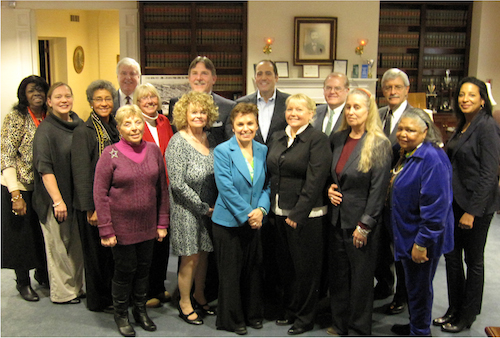 Pictured from left to right: Front Row: Dru Raley Treasurer of Springs Community Food Pantry, Pat Tius volunteer with Springs Food Pantry, Lisa Kombrink Partner of Twomey Latham, Charlene Cheshire Chairman of TLSKDQ Charitable Giving Committee, Sarah Benjamin Executive Director of CAST, Carolyn Gumbs Manager of LI Council of Churches Food Pantry. Back Row: Tincy Groover Manager of Open Arms Care Center Food Pantry, Kerry Lewendowski Assistant Director of Human Resources of the Hamptons Food Pantry, Zona Stroy Chairman of Board of Directors of Open Arms Care Center Food Pantry, Tom Twomey Partner of Twomey Latham, Mary Ann Tupper, Christopher Kelley Partner of Twomey Latham, David Dubin Partner of Twomey Latham, Howard Bluver President of Suffolk County National Bank, Frank Filipo Exeuctive Vice President of Suffolk County National Bank, Jeanine Henry Assistant Marketing Director of Suffolk County National Bank