"The Retreat's LPGA Pro-Am held each fall is the only tournament on Long Island that includes LPGA Pros, NFL Players, and amateurs on one field," explains Golf Chair & Retreat Board Member Steve Latham. "The generosity of these sports figures and willingness to take a stand against violence is admirable. Over the past few years we have been able draw attention to the crucial work of The Retreat in the prevention of domestic abuse. It's a win for everyone."
"We can't do our work without the generosity of donors and vocal support of our community," adds Loretta Davis, executive director of The Retreat. "Steve (Latham) has grown this event into something very special; a unique way to raise awareness and much needed funding."
The Retreat is a domestic violence agency with offices across Suffolk County, Long Island. The organization helps families affected by violence and abuse. Prevention education, and work in schools across Suffolk County, along with three college campuses (including Nassau) are a key component of their mission.
Author Don McPherson spoke at the event, using examples from his own life, including his storied football career. Mr. McPherson passionately argued that viewing violence against women as a "women's issue" not just ignores men's culpability but conflates the toxicity of men's violence with being male. Don McPherson, an All-America quarterback at Syracuse University who went on to play professionally in the NFL, began his work on gender-based violence prevention in 1994 at Northeastern University's Center for the Study of Sport in Society. His educational programs and lectures have reached over one million people in more than three hundred colleges and communities throughout North America. You Throw Like a Girl: The Blind Spot of Masculinity is his latest work.
To learn more, visit www.allagainstabuse.org or call 631-329-4398. If you need help, call The Retreat's 24 Hour Crisis Hotline (631) 329-2200. All services are free and confidential. Translation service for any language is available.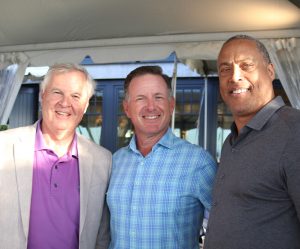 About the Retreat: The Retreat is a safe haven for families in crisis in the Hamptons and the East End of Long Island. For more than 30 years, the community-based, not-for-profit agency has provided comprehensive domestic violence services for children and adults, support for survivors, and prevention community education. For more information: www.allagainstabuse.org or call 631-329-4398. 24 Hour Crisis Hotline (631)329-2200.