Lisa Clare Kombrink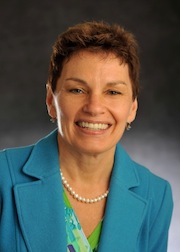 Partner
Ms. Kombrink serves private and government clients in real estate, land use, zoning, environmental, conservation and general municipal matters. She became a partner of the firm in 2009 after many years in public service.
Ms. Kombrink offers her clients a sophisticated understanding of real estate transactions as well as local codes and administrative procedures, including the public hearing and legislative process. She enjoys presenting complex land use applications to local administrative boards, and representing property owners and municipalities in land use and environmental litigation. She is well known for her seemingly effortless presentations of complex issues to administrative boards, civic groups and courts.
As part of her practice, she also focuses on local farmland and open space preservation efforts. This includes drafting conservation easements and legislation and facilitating community programs on conservation techniques.
She has served as Town Attorney for the Town of Southampton, head of the highly respected Town Attorney's Office, and counsel to the Supervisor and Town Board and other Town officials. She also represented the Southampton Town Zoning Board of Appeals. Her government service also includes working as Village Attorney for the Village of Sag Harbor, counsel to the Mayor and Board of Trustees, Zoning Board and Planning Board.
Ms. Kombrink is a member of the Board of Directors of Southampton Hospital and is a Trustee of the East End Health Alliance. She has been a guest lecturer at the Suffolk Academy of Law, the New School for Social Research, NBI and Siena Spirituality Center at Villa Maria, and has appeared on CNN, CBS Morning News, Court TV and Public Access TV.
Ms. Kombrink received her J.D. in 1983 from the Benjamin N. Cardozo School of Law, where she served as Notes and Comments Editor of the Cardozo Law Review. She graduated with High Honors from Illinois State University in 1977 with a B.A. in English.
Professional and Civic Associations:
Suffolk County Bar Association, Lawyers Helping Lawyers Committee