LIBN Who's Who – Jeffrey W. Pagano Esq. Labor & Employment Law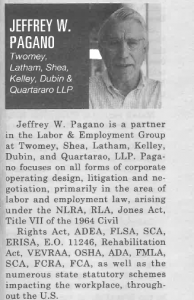 Jeffrey W. Pagano is a partner in the Labor & Employment Law Group at Twomey Latham.  Pagano focuses on all forms of corporate operating design, litigation and negotiation, primarily in the area of labor and employment law, arising under the NLRA, RLS, Jones Act, Title VII of the 1964 Civil Rights Act, ADEA, FLSA, SCA, ERISA, E.O. 11246, Rehabilitation Act, VEVRAA, OSHA, ADA, FMLA, SCA, FCRA, FCA, as well as the numerous state statutory schemes impacting the workplace, throughout the United States.
Pagano has experience in many industries, including all forms of transportation (armored, OTR, shipping, aircraft), manufacturing, financial, automotive, steel, retail and consumer products, hospitality, health care, and a myriad of other service industries.  He has been involved in hundreds of unions organizing campaigns on behalf of management.  He also has extensive experience before the NLRB, in collective bargaining, as well as the ongoing administration of the employment relationship, including arbitration.
Pagano has also developed work place policies and procedures that produce effective internal workplace dispute mechanisms designed to avoid external liability.  These practices enhance management's operational and leadership credibility, while reducing union organizing risk, discrimination claims, whistleblower claims and wage hour claims (collective, class, and individual), which reduces the potential legal spend in the process.
"Wage and hour compliance involving the New York Labor Law (NYLL) and the Fair Labor Standards Act (FLSA) should be a continuing employer focus depending upon the number of employees employed and/or the use of independent contractors within New York State," Pagano said.
"Due to overall employment growth, coupled with workforce generational employment expectations, continued toleration for non-compliant business/employment platforms is diminishing from the applicant's/employee's perspective. The risk for noncompliance not only limits the universe of qualified candidates, but for employees the employer risks collective and class action lawsuits involving all similarly situated employees and/or independent contractors. Such lawsuits are expensive to defend, as well as risky because damages typically consist of all wages owed to the class, double damages and attorney's fees for the plaintiffs' counsel."
"Employers should periodically conduct audit for each employment position concerning appropriate classifications, overtime eligibility, tip credits, state and/or federal mandated programs (e.g. hiring processes, sick pay, family leave, disability and other programs).  These are among the many facets of a compliant employment relationship. To do otherwise, is to diminish the value of the business platform, as well as the effectiveness of the operating strategy, while allowing one employee to dramatically affect the long-term viability of the enterprise through the collective and class action process."
Pagano also litigates significant complex commercial matters arising out of the purchase and sale of business organizations, intellectual property and contractual disputes in courts throughout the U.S. or in the arbitration context.