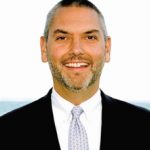 The firm is pleased to welcome back its partner, and former Southold Town Attorney, Martin D. Finnegan.
Mr. Finnegan was previously a partner at the firm until June, 2009 when he was appointed to serve as the Town Attorney for the Town of Southold and its elected and appointed Board members. Mr. Finnegan resides in Mattituck with his wife and seven children where he serves as the Past President of the Mattituck Chamber of Commerce and a member of the North Fork Business Advisory Board.

Mr. Finnegan will return to the firm with extensive experience in all aspects of Municipal and Environmental Law.He will be engaged in a general practice, including Land Use and Zoning, Commercial Litigation, Real Estate, Business and Corporate law, Tax Certiori and Estate Planning. He will work in the firm's Riverhead and North Fork offices.