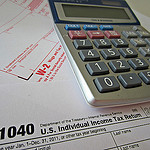 The Internal Revenue Service announced the cost of living adjustments affecting dollar limitations for pension and retirement plans for tax year 2015.

The contribution limit for employees who participate in 401(k), 403(b) and most 457 plans, is increased from $17,500 to $18,000.
The catch-up contribution limit for employees aged 50 and over who participate in 401(k), 403(b) and most 457 plans is increased from $5,500 to $6,000.
The annual contribution limit to an Individual Retirement Arrangement (IRA) remains unchanged at $5,500. Although subject to cost-of-living adjustments, this did not meet the threshold requiring adjustment. The additional catch-up contribution limit for individuals aged 50 and over is not subject to an annual cost-of-living adjustment and remains $1,000.
Most people can contribute to a Roth IRA the same amount they can contribute to a regular IRA. The use of the Roth IRA is phased-out when your Adjusted Gross Income (AGI) reaches certain levels. The AGI phase-out range for a Roth IRA is $183,000 to $193,000 for married couples filing jointly, up from $181,000 to $191,000 in 2014. For singles and heads of household, the phase-out range is $116,000 to $131,000, up from $114,000 to $129,000.
There are other cost-of-living adjustments which are not noted in this post. We welcome any questions you may have. Please call Laura Dunathan at (631) 727-2180 x 314.