Download Our Real Estate Practice Overview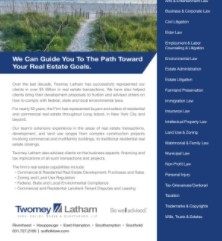 East End Towns Can Now Create a Community Housing Fund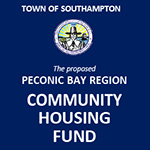 How to Buy or Sell Property on the East End
Transactions
Twomey Latham has represented buyers and sellers of residential and commercial real estate on Long Island since its inception in 1973, with a special emphasis and experience handling real estate transactions on Long Island's East End, including the towns of Southampton, East Hampton, Shelter Island, Southold and Riverhead.
The firm has vast experience with transactions that range from the simple to the most complex involving vacant land as well as residential, condominium, cooperative, and multi-family residences, and commercial buildings. The firm also advises its clients on the financial aspects and tax implications of such transactions and counsels clients on mortgage financing.
Twomey Latham is well known across Long Island as an environmentally conscience firm, which assists with environmental reviews of properties on behalf of purchasers of commercial real property acquisitions. We provide a complete array of real estate services to developers, contractors, and investors as well as purchasers and sellers of all types of real property.
Landlord-Tenant Law/Leases
The firm provides experienced counsel to both landlords and tenants with regard to landlord-tenant matters. In addition to drafting, negotiating and analyzing residential and commercial leases, including seasonal leases, Twomey Latham represents clients in lease-related litigation including residential and commercial summary proceedings for non-payment of rent, holdover, eviction following foreclosures, and other eviction proceedings.
The firm's litigators are also adept at obtaining and defending "Yellowstone" injunctions that seek to stay and ultimately avoid the forfeiture of a leasehold interest as a result of an alleged default under the lease.
Commercial & Residential Real Estate Development
Working closely with companies or individuals who are looking to subdivide and develop residential real estate on Long Island such as vacant land for single-family subdivision, or commercial real estate such as office buildings, industrial sites, and retail properties to be held in inventory or sold to others, our attorneys will advise the developer on the creation of the option agreement and the completion of a market feasibility study. Using the research and analysis of the study, we can advise the developer on whether to pursue the development. After determining market feasibility, our attorneys can assist the developer in contacting area engineers and architectural firms and drawing preliminary plans and specifications for the subdivision development, showing road layout, preliminary lot designs, layout of electric and water lines, and the layout of any sewer and drainage systems.
Our Long Island Real Estate Development Group has a strong relationship, and the knowledge to help expedite plans, with the appropriate zoning and planning authorities. When applying for a development mortgage loan, the firm's attorneys will also assist the developer with the application and obtaining mortgage commitment.
If you are interested in buying or selling a home on the East End of Long Island, please be sure to download our informative guidebooks.
Real Estate Attorneys
Our Long Island real estate lawyers have vast experience in real estate law, and provide skilled counsel to clients seeking expertise in both commercial and residential matters.
News & Insights About Real Estate