The law firm of Twomey, Latham, Shea, Kelley, Dubin & Quartararo, with Suffolk County National Bank, held a fundraising event in February to raise money to support five eastern Long Island food pantries. With contributions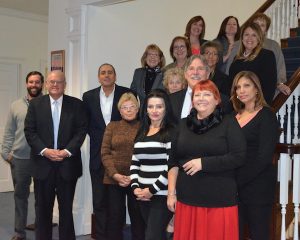 from numerous local businesses, the event resulted in raising $10,000. On October 27, 2016, Twomey, Latham, Shea, Kelley, Dubin & Quartararo and Suffolk County National Bank awarded checks of $2,000 each to five food pantries, namely, the Long Island Council of Churches Food Pantry in Riverhead, the Open Arms Care Center Food Pantry in Riverhead, the Community Action Southold Town (CAST) Food Pantry in Greenport, the Human Resources of the Hamptons Food Pantry in Southampton, and the Springs Food Pantry in East Hampton. This is the third consecutive year that the law firm and bank have made contributions to these food pantries.
Many local businesses contributed gift baskets to the event and the following businesses made financial contributions to the event: Martha Clara Vineyards, M3 Media Group, Stewart Title Insurance Company, Kevin M. Fox, PLLC, Riverhead Building Supply, Westhampton Architectural Glass, Inc., Bridge Abstract, LLC, Buzz Chew Chevrolet-Cadillac, Inc., Kandell Farnworth & Pubins, CPA's, PC, Michael Bialer Real Estate Appraisals, Inc., Hamptons Virtual Office Center, LLC, , East Hampton Executive Office Services, Inc., Goodale Farms, Wainscott Farms, Cohen's Fashion Optical, Riverhead Family Dental, PLLC, Mullen Motors, Judicial Title, Laura Stroh, Parthenon Framing, Moore Visual Services, Mass Mutual, Matthew C. Rizzo.
Caption for photo:
Top Row: L-R: Angie Reese, (SCNB), Colleen Cummings & Linda Ruland (CAST)
2nd   Row: L-R: Jeanne Kelley (SCNB), Anita Nigrel (SCNB), Zona Story (Open Arms), Elizabeth Custodio (SCNB)
3rd   Row: L-R: Hilton Crosby (Human Resources of the Hamptons), Howard Bluver (Pres. SCNB), David Dubin (Snr. Partner TLSKDQ), Pat Titus (Springs Food Pantry), Christopher Kelley (Snr Partner TLSKDQ)
4th   Row: L-R: Dru Raley (Springs Food Pantry), Olga Cortez & Mary Anita Reyes (LI Council of Churches Food Pantry), Charlene Cheshire (TLSKDQ)