Be well advised.®
Winter/Spring 2020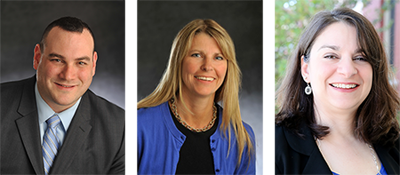 Craig H. Handler, Karen A. Hoeg and Bernadette Tuthill.
Twomey, Latham, Shea, Kelley, Dubin & Quartararo, LLP Names Three Associate Attorneys as Partners

The firm has elevated three associates to Partner: Craig H. Handler, Karen A. Hoeg and Bernadette Tuthill.



Firm Acquires Birtwhistle & Gibson, P.C.
Craig Gibson Joins Firm as Of Counsel

On January 1, 2020, the firm completed its acquisition of Birtwhistle & Gibson, P.C., a 40-year-old law firm based in Bridgehampton. The acquisition allows Birtwhistle & Gibson's clients to continue to be served by Twomey Latham in many diverse practice areas, including elder care, estate planning, trusts and estates, litigation, commercial law, employment law and real estate.



Kathryn Dalli Named as LIBN's "Who's Who in Intellectual Property & Labor Law."

Kathryn Dalli, a partner with the firm, was featured in Long Island Business News' special issue, "Who's Who in Intellectual Property & Labor Law." Ms. Dalli said that there will be a significant focus on trademarks for the cannabis industry going into 2020.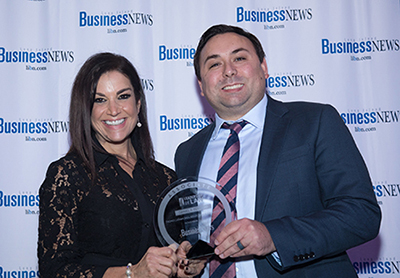 Daniel R. Bernard (right) accepts the Leadership in Law award from LIBN Associate Publisher Alicia Jabbour (left).
(Photo by Judy Walker)
Daniel R. Bernard Receives LIBN's Leadership in Law Award

Daniel R. Bernard, an associate with the firm, received the Leadership in Law Award from Long Island Business News in the category of Associate. The ceremony was held at the Crest Hollow Country Club in Woodbury on November 21, 2019.

The Leadership in Law award recognizes attorneys who exemplify the following traits — experience, dedication, hard work, skill, tenacity, compassion and excellence — and is dedicated to those individuals whose leadership, both in the legal profession and in the community, has had a positive impact on Long Island.




SECURE Act - Setting Every Community Up for Retirement Enhancement
By: Christina M. Noon

2019 ended with President Trump signing a spending bill funding the federal government through Fiscal Year 2020. Included with the spending bill is the Setting Every Community Up for Retirement Enhancement ("SECURE") Act. The SECURE Act enacts major changes to rules related to individual and employer sponsored retirement accounts and may also substantially alter estate plans incorporating retirement accounts. Here are some key takeaways from the SECURE Act.



Supreme Court, Suffolk County Unveils New ADR Part For Civil Cases
By: Craig H. Handler

The Supreme Court, State of New York has adopted new Alternative Dispute Resolution ("ADR") Rules for civil cases, forming a new ADR Part with the express goals of fostering negotiation to help settle disputes, narrowing the issues to be adjudicated, and/or assisting the parties to understand each other's positions and interests.



New York 2020 Employment Updates
By: A. Chadwick Briedis, Jeffrey W. Pagano, and Jennifer P. Nigro

New York Labor Law §203-e
On November 8, 2019 Governor Andrew Cuomo signed legislation that protects employees against discrimination on the basis of their reproductive health decision-making. Health decisions are defined as including, but not limited to, the decision to use or access a particular drug, device, or medical service.



Prenuptial Agreements and Estate Planning
By: Daniel R. Bernard

A prenuptial agreement can conjure in people the thought of a wealthy person marrying a not so wealthy person, or celebrities marrying each other, or an older spouse marrying a younger spouse. Some people have a pessimistic outlook on prenuptial agreements, and see them as planning the divorce before the marriage happens. However, the purpose of a prenuptial agreement is to govern the rights of the parties at the end of the marriage.




Senior Partner Steve Latham Hosts The Retreat's Annual LPGA Pro-Am to Eradicate Domestic Violence

The Retreat is a domestic violence agency with offices across Suffolk County, Long Island. The organization helps families affected by violence and abuse.



Twomey Latham Official Exhibitor Sponsor of the 2019 Alzheimer's Association Caregiver's Conference

Twomey Latham sponsored the Alzheimer's Association's Caregiver's Conference on November 15th, 2019 at the Huntington Hilton in Melville, New York. Associate Christina Noon participated in the conference. This annual event provides family and professional caregivers with information and resources on topics related to Alzheimer's disease and other dementias.



The Press Sessions - Sewer Project
Shaping the Future of Westhampton Beach

The Express News Group, publishers of The Southampton Press, hosted a discussion on the Main Street project, and the upcoming sewer project in Westhampton Beach Village on Thursday, November 7th, 2019 at The Mill Roadhouse. The discussion was part of the continuing series of Press Sessions events hosted throughout Southampton and East Hampton towns.



Twomey Latham Raises Nearly $600 for the Firm's Charitable Giving Fund With Annual Soup & Salad Luncheon

Many thanks to Twomey Latham's Charitable Giving Committee for hosting their Annual Fall Soup & Salad Luncheon on Wednesday, October 23rd, 2019. Employees volunteered and brought in soup, salads and dessert for the luncheon.

The Firm raised nearly $600 for the firm's Charitable Giving Fund, which will help a local family in need this holiday season.

Planned Giving Panel Discussion At LongHouse Reserve

On Saturday, October 19th, 2019, John Shea, Senior Partner, and Bernadette Tuthill, a Partner with the Firm's Trusts and Estates Department, were joined by accountant Ron Farnworth, President of Kandell Farnworth & Pubins CPAs, for a panel presentation to members and donors of LongHouse Reserve in East Hampton. The presentation covered strategies for charitable giving as an integral part of estate planning for individuals. Topics included endowments, a range of trusts, donations of art with retained life estates, and many other techniques for donors to achieve their philanthropic objectives, both during their lifetime and as future legacies.

---
Riverhead • Hauppauge • East Hampton • Southampton • Southold
631.727.2180 | suffolklaw.com






© 2020 Twomey, Latham, Shea, Kelley, Dubin & Quartararo, LLP. All Rights Reserved.
Attorney Advertising. Prior Results Do Not Guarantee A Similar Outcome.