Monthly Archives: March 2019
The North Fork Breast Health Coalition's (NFBHC) Fifth Annual Pink Pearl Gala will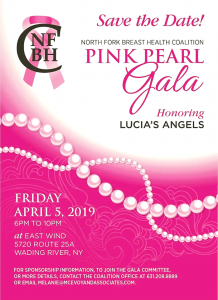 take place on Friday, April 5 at East Wind Long Island. Continue reading North Fork Breast Health Coalition's Fifth Annual Pink Pearl Gala Hosted on Friday, April 5 →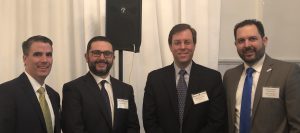 Partners Bryan Van Cott, Patrick Fife, and Reza Ebrahimi sponsored and presented at the Southampton Chamber of Commerce's quarterly breakfast meeting.
Their presentation, Business Law 101 – "Getting What You Want, Protecting What You Have" was given to nearly 60 chamber members providing an overview of: Business Formation, Third-Party Contracts, Liability & Asset Protection, and Employment & Trade Secret Issues.
(Pictured from left to right: Twomey Latham's P. Fife, R. Ebrahimi, B. Van Cott, and Southampton Chamber Director Micah Schlendorf.)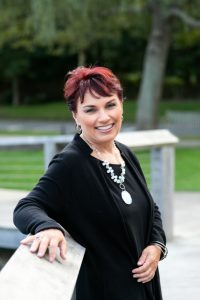 Twomey Latham congratulates our colleague, Lisa Clare Kombrink, on her appointment as Community Preservation Fund Manager for the Town of Southampton. 
For the past 25 years on the East End of Long Island, Lisa has worked with families, conservation groups, and public officials to preserve and maintain the unique, rural character of the community. Lisa will continue to serve as Counsel to the firm. 
The Community Preservation Department is responsible for the administration of the Town's land acquisition program.  This historic and progressive legislation has given the Town of Southampton a powerful tool to achieve its long-standing farmland, open space, and groundwater protection goals.
Since the inception of the Community Preservation Fund in April 1999, it has generated over $384 million in the Town of Southampton for the preservation of over 3,000 acres of land throughout the town. The Town of Southampton has become a leader in land preservation with the assistance of matching funds from Suffolk County, New York state, and the federal government. 
In addition to her legal work, Lisa serves on the Board of Directors of the Southampton Hospital Association and is a member of the Stony Brook Southampton Hospital Executive Committee and the Quality Assurance Committee.  At the State level, she is a board member of the New York Higher Education Capital Improvements Matching Grant Program.
Lisa lives in Southampton with her husband, Jesse Camacho, and their 18-year old son, Gabe.