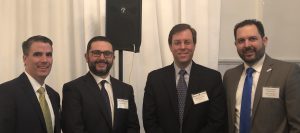 Partners Bryan Van Cott, Patrick Fife and Reza Ebrahimi sponsored and presented at the Southampton Chamber of Commerce's quarterly breakfast meeting.
Their presentation, Business Law 101 – "Getting What You Want, Protecting What You Have" was given to nearly 60 Chamber members providing an overview of: Business Formation, Third Party Contracts, Liability & Asset Protection, and Employment & Trade Secret Issues.
(Pictured from left to right: Twomey Latham's P. Fife, R. Ebrahimi, B. Van Cott, and Southampton Chamber Director, Micah Schlendorf)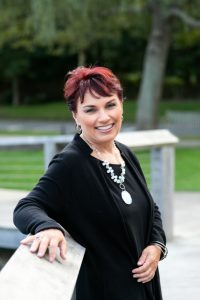 Twomey Latham congratulates our colleague, Lisa Clare Kombrink, on her appointment as Community Preservation Fund Manager for the Town of Southampton. 
For the past 25 years on the East End of Long Island, Lisa has worked with families, conservation groups, and public officials to preserve and maintain the unique, rural character of the community. Lisa will continue to serve as Counsel to the firm. 
The Community Preservation Department is responsible for the administration of the Town's land acquisition program.  This historic and progressive legislation has given the Town of Southampton a powerful tool to achieve its long-standing farmland, open space, and groundwater protection goals.
Since the inception of the Community Preservation Fund in April 1999, it has generated over $384 million in the Town of Southampton for the preservation of over 3,000 acres of land throughout the town. The Town of Southampton has become a leader in land preservation with the assistance of matching funds from Suffolk County, New York State, and the federal government. 
In addition to her legal work, Ms. Kombrink serves on the Board of Directors of the Southampton Hospital Association and is a member of the Stony Brook Southampton Hospital Executive Committee and the Quality Assurance Committee.  At the State level, she is a Board member of the New York Higher Education Capital Improvements Matching Grant Program.
Lisa lives in Southampton with her husband, Jesse Camacho, and their 18-year old son Gabe.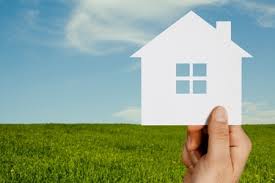 It's almost spring, the traditional start of the homebuying season.  Buying a house requires a lot of time and effort.  These "5 Home-Buying Hacks" can help make the process manageable and guide you to make the best decisions possible.  Whether you are in the market for your first house or your fifth, the process can be complicated. What should you be thinking about now?  Read the five tips: https://nwsdy.li/2E1Hxx4
Partner Reza Ebrahimi is a business and real estate attorney with several years experience in commercial litigation in NYC and Long Island, giving him a unique and comprehensive set of skills, knowledge and expertise to successfully handle all aspects of real estate and business law.   Click here for Reza's bio.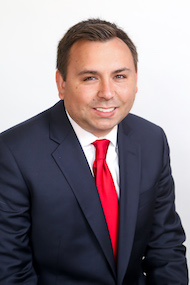 Associate Daniel R. Bernard has been appointed the Vice-Chair of the New York State Bar Association Trusts and Estates Section multi-state practice committee.
Continue reading Daniel Bernard Appointed Vice-Chair of NYS Bar Association Trusts and Estates Section →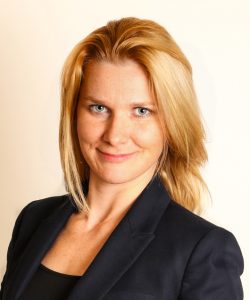 Associate Katerina Grinko was honored at the 21st annual Long Island Business News  '40 Under 40' awards dinner on Thursday, February 7th at the Crest Hollow Country Club.
The 40 Under 40 Awards celebrates future leaders of Long Island who have already begun to distinguish themselves in business, government, education and the not-for-profit sector. Continue reading Katerina Grinko Honored at LIBN's 21st Annual 40 Under 40 Awards →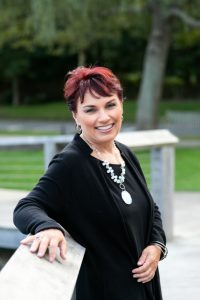 Partner Lisa Clare Kombrink, Esq. is featured in Karl Grossman's Suffolk Closeup, "Farmers Win Key Battle"in The Southampton Press.  Grossman highlights the work done by Kombrink and the law firm on behalf of the Suffolk County Legislature and the Suffolk County Farmland Committee.  The decision on appeal upholds the rights of farmers to build barns and install irrigation, fencing and other improvements on land preserved for farming under the County's over 40-year old preservation program.  Continue reading SUFFOLK CLOSEUP – Lisa Clare Kombrink Featured In The Southampton Press →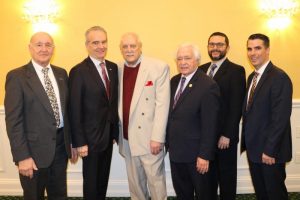 On Friday, January 25th LIMBA hosted a breakfast forum with John Cameron, Chairman of the Long Island Regional Planning Council, which was co-sponsored by Twomey Latham.  Partners Patrick Fife, Reza Ebrahimi and Janice Snead attended the event.
The future of Long Island's infrastructure and sustainability were discussed. "Long Island has many challenges, but there are also many opportunities," said Mr. Cameron. The Long Island Regional Planning Council serves as the Island's Chief Planner and a leading advocate for issues affecting the economic, environmental and social well-being of the Island's businesses, institutions and its 3 Million residents.
Pictured from left to right: Ken Nevor (LIMBA), John Cameron (Chairman, LI Regional Planning Council), Ernie Fazio (LIMBA), Bill Miller (LIMBA), Partners  Reza Ebrahimi and Patrick Fife (Twomey Latham)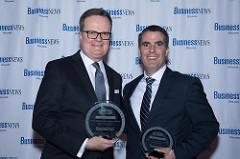 Senior Partner John Shea and Partner Patrick Fife were recently honored by Long Island Business News (LIBN) for their Leadership In Law. Continue reading Senior Partner John Shea and Partner Patrick Fife Honored By LIBN For Their Leadership In Law →