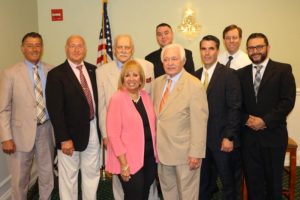 On Friday, June 15th LIMBA hosted a breakfast forum with Islip Town Supervisor Angie Carpenter, which was co-sponsored by Twomey Latham.  Partners Bryan Van Cott, Patrick Fife, Reza Ebrahimi, and associate Daniel Bernard attended the event.
The recent developments at Long Island-MacArthur Airport were discussed, in addition to the latest developments in the town.  Since 1968, LIMBA has been Long Island's catalyst for economic investment and improvement.
Pictured:  LIMBA staff and sponsor representatives from Summit Security and Twomey Latham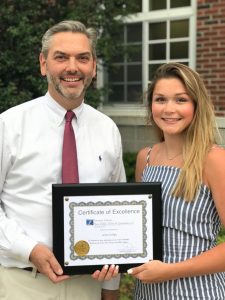 Martin D. Finnegan of the law firm of Twomey, Latham, Shea, Kelley, Dubin & Quartararo awarded the recipient of the firm's 2018 Community Service Scholarship to Mattituck Jr. Sr. High School senior Jaime Gaffga of Mattituck.
Ms. Gaffga  is an active member of the Navy Junior Reserve Officer Training Corps (NJROTC).  Jaime volunteers at Peconic Landing Nursing Home where she enjoys bringing smiles to the resident's faces.  Aside from devoting her time to giving back and participating in a variety of community events, Jaime is a member of the National Honor Society and a variety of Varsity sports.
Good luck to Jaime and the 2018 graduating class of Mattituck Jr. Sr. High.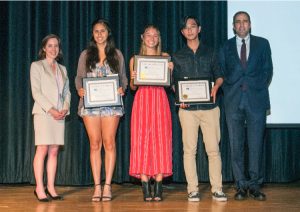 David Dubin and Alexandra Halsey Storch of the law firm of Twomey, Latham, Shea, Kelley, Dubin & Quartararo announced the recipients of the firm's Community Service Scholarships. On Thursday, June 7 the 2018 scholarship recipients were announced at the Southampton High School Senior Awards Ceremony. This year's winners are Keilyn Castillo, Stephanie Schiavoni and Joshua Reyes.
Continue reading 2018 Twomey Latham Community Service Scholarship Recipients Awarded at Southampton High School →
Corporate Citizenship: The Business of Giving
"The Corporate Citizenship Awards celebrate companies, foundations and individuals who recognize that building a better Long Island to live, work and play starts with community service.  By embracing the idea that being a good corporate citizen can help an entire region prosper, this year's honorees have set the bar high.  They have donated both time and money to a cause greater than themselves; some have even made helping others their life's work.  Each of them understand the value of being part of something greater than themselves." – Joe Giametta, Publisher of Long Island Business News
Corporate Citizen of the Year (Small Business)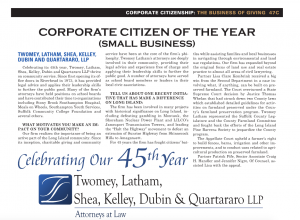 Our firm realizes the importance of being an active part of the Long Island community.  Since the firm's inception, charitable giving and community service have been at the core of our philosophy.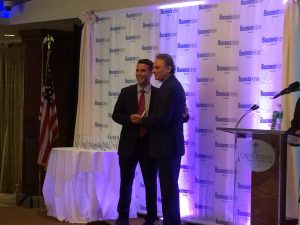 Twomey Latham's attorneys are deeply involved in their community, providing their legal advice and experience free of charge and applying their leadership skills to further the public good.
Click to enlarge.
Continue reading LIBN Awards Twomey Latham and Senior Partner Christopher D. Kelley at Corporate Citizenship Awards →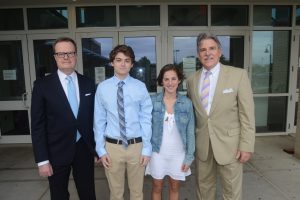 On Thursday night the 2018 Scholarship recipients were announced at East Hampton High School's award ceremony.  The year's winners are Rudolph DeSanti, of East Hampton, and Maya Schultz, of Amagansett.
Ms. Schultz has volunteered with Paddler's for Humanity; an East Hampton based all volunteer non-profit organization dedicated to bettering children's lives.  Maya hopes to train this summer to do the Block Island Challenge herself before she heads to college.  She will be attending Emory University in Atlanta, Georgia majoring in International Business.
Mr. DeSanti has participated in many community service projects for several school organizations, as well as on his own.  The project he is most proud of, was helping the EHMS PTA re-do the interior courtyard at the East Hampton Middle School.  He had just graduated from the middle school the prior year, and this was his way of giving back and ensuring younger students had the possibility to have as many great memories and positive experiences there as he did.  He will be attending Roger Williams University in Bristol, Rhode Island.
The scholarship for each recipient includes a $1,000.00 check to help with college expenses.  Best of luck and congratulations!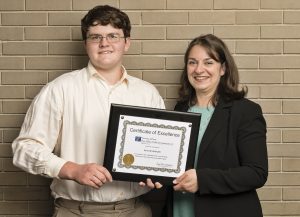 On Thursday evening the 2018 Twomey Latham Community Service Scholarship recipient was announced at Riverhead High School's Senior Award Ceremony.  The year's winner is Kenneth Rothwell, of Wading River.
Kenneth is a member of both the Riverhead Community Awareness Program (CAP) and Riverhead Youth Coalition, volunteering his time to interact with the youth and adults in the Riverhead community, helping to educate others on the dangers of drug and alcohol use and the dangers of underage drinking.
Mr. Rothwell will be attending Suffolk County Community College this fall and Stony Brook University in the spring.  The scholarship includes a $750.00 check to help with college expenses.
Best of luck and congratulations, Kenneth!
Twomey Latham will be honored at Long Island Business New's Corporate Citizenship Awards.  The firm is being recognized as       Corporate Citizen of the Year (Small Business) and Senior Partner Christopher D. Kelley, Esq. for Leadership Excellence (For Profit). 
The Corporate Citizenship Awards recognize companies and individuals who believe that by being a good corporate citizen we contribute to the economic and social well-being of our employees, businesses and the community.  Honorees consistently prove that true community stewardship evolves through building strong partnerships with nonprofit organizations.
Congratulations to all the winners and nominees – the companies and individuals who consistently strive to meet critical needs of our community.
Partner Kathryn Dalli, head of the firm's intellectual property law group, has been practicing law for over 30 years. Ms Dalli has a diverse background in the arts, business, entertainment and litigation. Ms. Dalli was approached by Hamptons Art Hub to write a column focused on practical legal tips for artists.
Hamptons Art Hub editorial is created by well-respected journalists and experienced professionals who are steeped in the art world and present their insights in a clear manner designed to engage art fans, collectors, art world professionals, artists and anyone interested in discovering contemporary and modern art.  Read Kathryn's article below.
Creativity & The Law: Collage and Fair Use under the Copyright Laws
Continue reading Creativity & The Law: Collage and Fair Use Under the Copyright Laws →