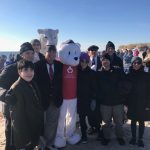 Members of the firm, along with family and friends, participated in our 14th consecutive
Polar Bear Plunge
on Saturday, December 8th to support
Heart of the Hamptons
.  The ambient air temperature was 32 degrees, and the water temperature a tepid 42 degrees.  Preliminary reports indicate that the charity raised over $60,000 in connection with this event, which will be used for food, shelter and clothing for the homeless and others in need on the East End.  Many thanks to the participants and those who sponsored them.
As District Attorney, Sini has added new units to the office: the Gang Unit, which investigates and prosecutes gangs, including MS-13; the Enhanced Prosecution Unit, which collects and disseminates evidence to prosecute the impact drivers of crime; and the Environmental Crimes Unit, formed due to the illegal dumping of solid waste and construction materials in Suffolk County.  In addition, top areas of focus are drugs, human trafficking and public integrity.
Pictured from left to right: DA Tim Sini, Ernie Fazio, Bill Miller, Ken Nevor (LIMBA), Partners Patrick Fife and Reza Ebrahimi (Twomey Latham)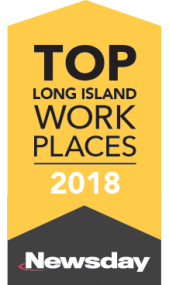 Twomey Latham, the largest law firm in Eastern Suffolk County, has been named a Top Workplace this year by Newsday.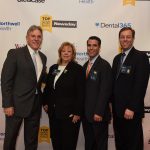 Newsday's Top Workplace recognizes workplaces on Long Island where employees feel their work is appreciated; where they identify with the company's goals and vision; and where they have confidence in their leadership.
Since the firm was established in 1973, Twomey Latham has built a sterling reputation initiated by the passion for justice and unquestioned integrity of its founder, Tom Twomey, and carried on by its growing team of dedicated and driven partners and associates.
Continue reading Twomey Latham Awarded Top Workplace on Long Island →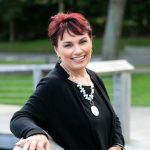 Partner Lisa Clare Kombrink received Top 50 Women in Business Award from Long Island Business News (LIBN).
LIBN's Top 50 Women in Businessrecognize accomplishments of women who demonstrate leadership in their chosen career.  Dedication, initiative and involvement in the community are all core components of this recognition program.
Ms. Kombrink serves private and government clients in real estate, zoning, farmland and open space preservation, and land use litigation.  Her 34-year career has always included work in the public interest.  For the past 25 years on the East End of Long Island, she has worked with families, conservation groups, and public officials to preserve and maintain the unique, rural character of her community.
Continue reading Partner Lisa Clare Kombrink Honored as One of Long Island's Top 50 Women in Business →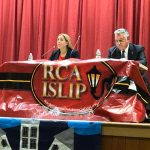 Last week, partner Patrick Fife co-moderated the Islip Civic Coalition's Meet the Candidates Night for NY's 2nd Congressional District race between Peter King and Liuba Grechen Shirley.  Patrick introduced the candidates to an audience of approximately 200 people, and was part of a panel that questioned both candidates on a number of issues, including taxes, healthcare, education and infrastructure.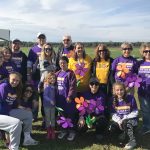 Several members of the firm, their families and friends participated in the Walk to End Alzheimer's on Sunday, October 14th at the Suffolk County Farm in Yaphank, New York.
Individuals of all ages took part in the walk to raise Alzheimer's awareness and support local families affected by Alzheimer's disease. The fun-filled day featured health and wellness activities, music, entertainment, children's activities and refreshments, all while helping Long Islanders living with Alzheimer's disease. 
Twomey Latham was a sponsor of the event and the firm raised nearly $2,000 to aid in the fight against Alzheimer's and to support those affected by the disease.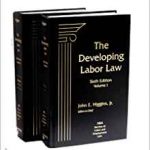 Partner Jeffrey Pagano and Counsel Jennifer Nigro served as contributing editors of the 7th edition of The Developing Labor Law: The Board, the Courts, and the National Labor Relations Act.
For more than 45 years, practitioners have relied on The Developing Labor Law: The Board, the Courts, and the National Labor Relations Act to keep them current on U.S. labor law. Now in its Seventh Edition and described as "comprehensive and scholarly" in the Legal Information Buyer's Guide and Reference Manual, this two-volume treatise is updated annually by distinguished members of the ABA Section of Labor and Employment Law, representing management, labor, and neutrals. Long considered an essential research tool for labor and employment law practitioners, it provides an authoritative, balanced perspective on the legal rights and duties of employees, employers, and unions, along with procedures and remedies under the NLRA.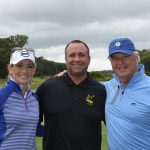 On September 24th, Senior Partner Steve Latham hosted a Pro Am golf tournament to benefit a local charity, The Retreat.  The tournament was held at the exclusive Friar's Head Golf Club, located in Baiting Hollow, NY, overlooking the Long Island Sound.  This year, the Pro-Am has been expanded to a field which will include 22 LPGA Pros paired with 88 amateurs raising over $100,000 for the charity.
The Retreat provides comprehensive services to victims of domestic violence and sexual assault, their families and the Eastern Long Island community, including counseling, legal advocacy,  educational programs, a 24-hour bilingual hotline and maintaining a shelter.
Mr. Latham has served on the Board of The Retreat for many years.  In addition to our law firm, Wright & Co. Construction sponsored the event.
Pictured:  Pro Danah Bordner, Jeff Reed of the Pittsburg Steelers and Steve Latham