Partner Lisa Kombrink has announced the formation of the 2013 Twomey, Latham, Shea, Kelley, Dubin & Quartararo, LLP team for the 18th Annual Ellen's Run in Southampton, New York, scheduled for August 18, 2013.
The event is a 5K course through picturesque Southampton Village, and includes participants of all ages and abilities.
Continue reading Twomey Latham Forms Team for 18th Annual Ellen's Run →
Partner Lisa Kombrink appeared as the featured speaker at the "Women in Business Power Luncheon" in Southampton on June 19, 2013. Twenty-eight real estate brokers from Southampton firms attended the event.
Continue reading Lisa Kombrink Speaks at Women in Business Power Luncheon →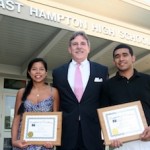 Twomey Latham is pleased to announce the recipients of its 2013 Community Service Scholarships. The year's winners are Mario Mayorga and Laura Perez, both of East Hampton High School, Amber Nicholson of Riverhead High School, and Nicolette Finder, Paris Hodges and Claire Zaneski of Southampton High School.
Continue reading Twomey Latham Announces 2013 Community Service Scholarship Recipients →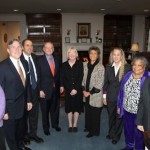 Twomey Latham and Suffolk County National Bank conducted a joint Holiday Charitable Giving Campaign in December that incorporated several fundraising events that were attended by members of the law firm, bank staff and the public. Supported by the generous donations and contributions of numerous East End businesses, the net amount raised was $10,000. At a luncheon held on January 16, 2013, Twomey Latham and SCNB awarded $2,000 to each of the following five food pantries: Long Island Council of Churches Food Pantry in Riverhead, Open Arms Care Center Food Pantry in Riverhead, Community Action Southold Town (CAST) Food Pantry in Greenport, Human Resources of the Hamptons Food Pantry in Southampton and Springs Food Pantry in East Hampton. Continue reading Twomey Latham and SCNB Raise $10,000 for East End Food Pantries →
The firm is pleased to announce that Melissa Sidor has joined the firm as a Senior Attorney. Ms. Sidor's practice, since being admitted to practice law in 1998, has focused on wills, trusts and estates, business succession planning, estate administration, tax exempt organizations, business transactions and commercial and residential real estate transactions.
She received her Juris Doctor degree from Hofstra University Law School in 1997, where she was the managing editor of articles of the Hofstra Labor & Employment Law Journal. Continue reading Melissa Sidor Joins The Firm as a Senior Attorney →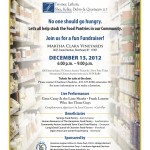 The event will be held on December 13, 2012, from 6-9 pm at Martha Clara Vineyards, located at 6025 Sound Avenue in Riverhead. Entertainment will be provided by Gene Casey & The Lone Sharks, Frank Latorre and Who Are Those Guys. For $20 attendees will receive 25 Chinese Auction Tickets.
Continue reading Twomey Latham To Co-Host Food Pantry Fundraiser →
Twomey Latham was a sponsor of the recent "Jordan's Initiative" fishing tournament in Sag Harbor, New York. The tournament raised money for the volunteer pilot organization Patient AirLift Services (PALS) and the organization Building Homes for Heroes. Twomey Latham partner John Shea is one of the founding directors of PALS, which provides free air transportation to patients in financial need and to wounded servicemen and women and their families.
Continue reading Twomey Latham Sponsors "Jordan's Initiative" in Sag Harbor, New York →
Twomey Latham's Charitable Giving Committee recently announced that its fall giving campaign will benefit local food pantries on the East End of Long Island, including the Springs Food Pantry at Springs Community Presbyterian Church in East Hampton, the Human Resources of the Hamptons Food Pantry at Sacred Hearts of Jesus and Mary Church, Southampton, the Community Action Southold Town Food Pantry in Greenport, and the Long Island Council of Churches Food Pantry and the Open Arms Care Center Food Pantry, both in Riverhead.
Continue reading Twomey Latham's Charitable Giving Committee Announces Recipients →